Published by Admin
Posted on June 29, 2012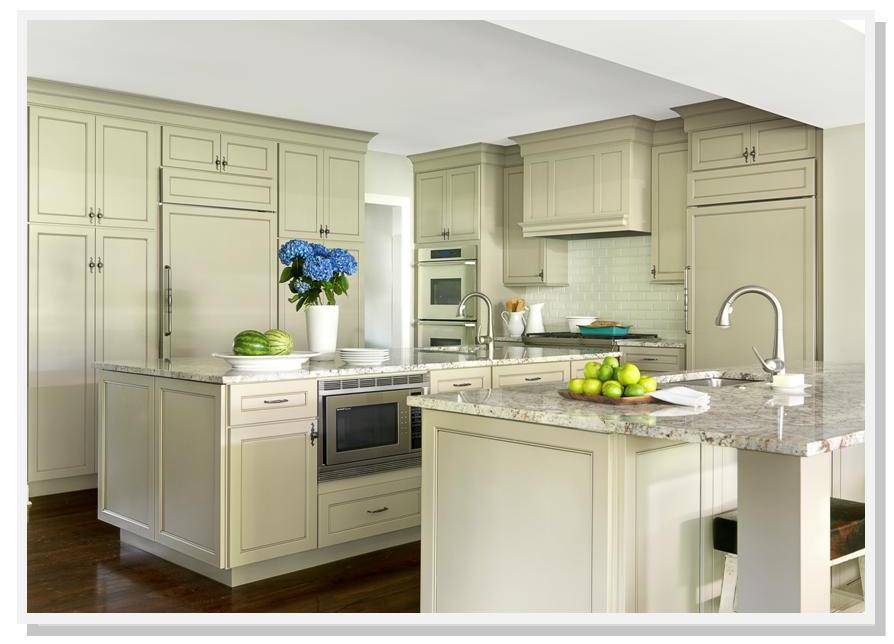 Prior to constructing a new addition, these homeowners were making due with a cramped kitchen and laundry room to match. In addition to more space they were looking for a fresh, classic design update. Owner of Beck/Allen Cabinetry, Mike Beck suggested a simple Shaker-style door from Shiloh crafted from maple. A Taupe painted finish compliments the natural light pouring in from surrounding windows while the subtle mocha glaze gives a nod to the veining in the granite countertops.
Thoughtful details throughout the kitchen, both seen and unseen, achieve an understated elegance. Borrowing from the simplicity of the door style, Mike selected quiet, yet sophisticated white subway tiles, gracefully curving faucets and traditional hardware. Finishing touches also include appliance panels concealing the refrigerator, warming drawer and dishwasher as well as wainscot panels finishing the ends of both islands, elements which together provide an uninterrupted, seamless look. Unseen details like pull-out trashcans and tray dividers make this kitchen as functional as it is beautiful.
Details haven't gone un-noticed in the neighboring new family center and laundry room. With plenty of storage space in lockers, over-sized drawers and cabinets, this room becomes an organizational hub of the home for everyone, four-legged family members included. The prairie door style and Vanilla painted finish help carry the feel of the nearby kitchen throughout the house.
For more design inspiration be sure to visit our online portfolio.