Published by Admin
Posted on April 30, 2016
Working in partnership with the homeowners, we approached this transitional kitchen design with several objectives in mind. The client expressed a desire for a clean look, incorporating a mix of modern and traditional elements. What was once a dated, 90's oak kitchen was gutted down to the studs and reimagined by Mike Beck. The entire floorplan was reconfigured and contractors were able to marry new wood floors with the old. The new design did away with an oversized, unnecessary pantry, making way for a more functional, intentional approach to storage.
Shaker-style doors in a painted light gray finish were paired with classic Carrara marble countertops and a farmhouse sink. We made the most of every square foot with floor-to-ceiling cabinets for storage. To maintain a seamless design, custom panels were used to conceal the dishwasher and a microwave drawer was selected. The simple doorstyle lends itself to the choice of minimalist hardware, a sleek cooktop and modern range hood. A large section of glass-front cabinets keep crystal and China within reach; ideal for entertaining.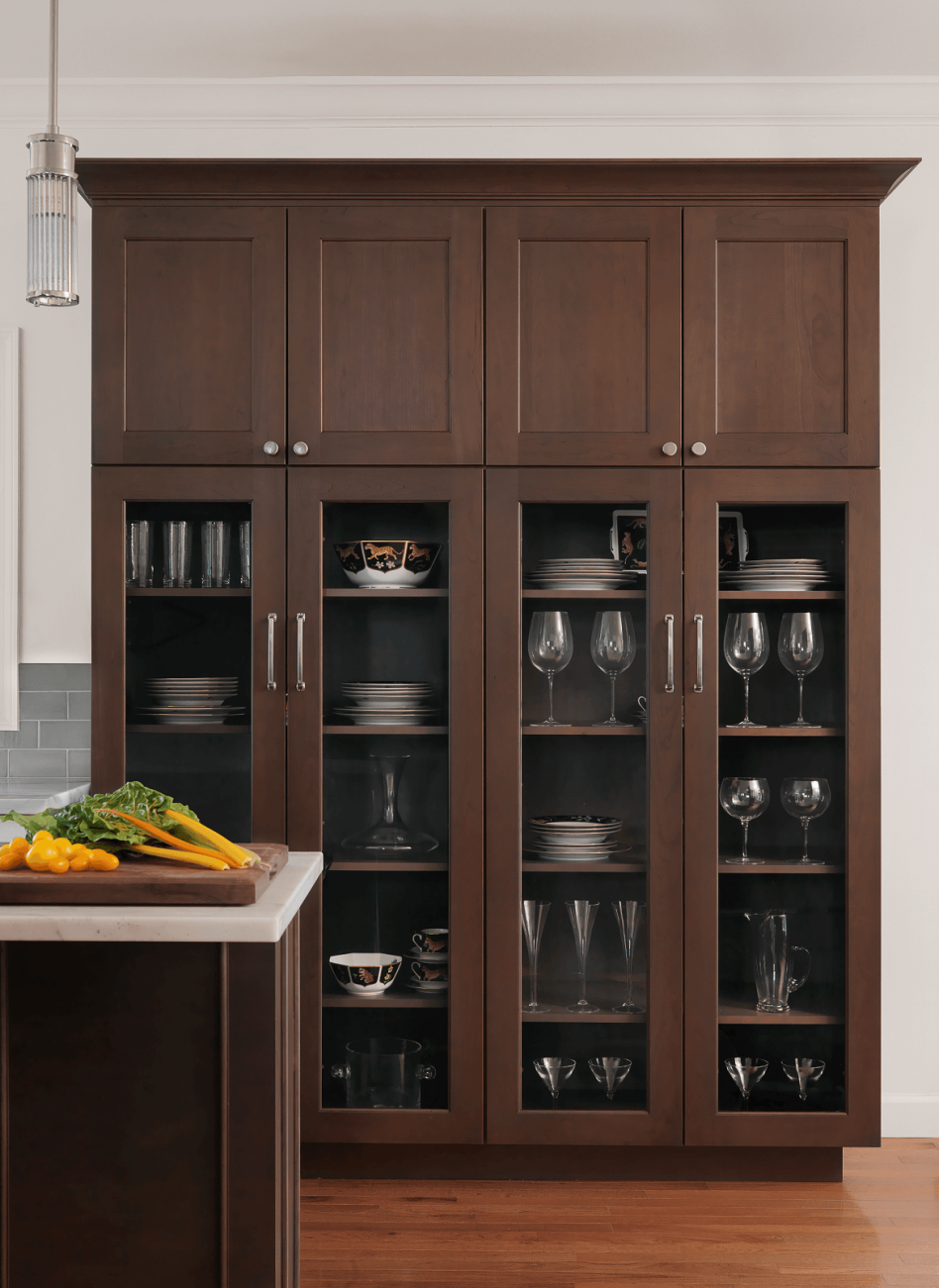 DESIGN DETAILS – TRANSITIONAL KITCHEN
Perimeter Cabinetry
Shiloh Eclipse Frameless Cabinetry with applied molding in Maple with a Polar White painted finish and Slate highlight.

China/Crystal Display & Island Cabinetry
Shiloh Eclipse Frameless Cabinetry in Cherry with a Silas stain with Graphite highlight.

Cabinet Hardware
Top Knobs
Appliances
Available through AUTCOhome
Wolf Induction Cooktop and Oven, Miele Dishwasher, Kitchen Air Refrigerator and Range Hood