Published by Admin
Posted on January 4, 2012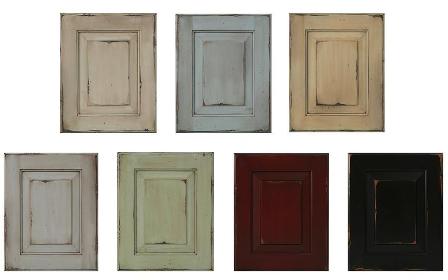 Olde World Finishes from left to right: Custard, Colonial Blue, Corn Silk, Heritage Gray, Jade Green, Cordovan and Ebony.

Of the many quality lines that Beck/Allen Cabinetry is proud to represent, Shiloh Cabinetry is a small, family-owned company located in rural Missouri, not far from St. Louis. Since 1977 Shiloh has been growing steadily, which they attribute to their high standards for products, materials and hard-working employees. Shiloh Cabinetry is a competitively priced line, each cabinet is built by hand and their product selection boasts over 250 finish options. Among the wide range of hand-applied finishes offered, their newest collection takes its cues from the past. The Olde World Finishes feature a variety of finishing techniques that produce an antiqued look and are available in seven colors from soft Custard and Colonial Blue to deep, rich Cordovan and Ebony. Olde Worlde finishes can be applied to oak, hickory, maple, knotty alder or cherry cabinetry. 
Shiloh cabinetry can be seen at our Chesterfield showroom and both of our showrooms have samples of the Olde World finishes on display. Stop by Monday through Friday between 9 a.m. and 4:30 p.m., Saturdays between 9 a.m. and 1 p.m. or call 636.519.1611 to make an appointment with a member of our design team.