Published by Admin
Posted on April 11, 2014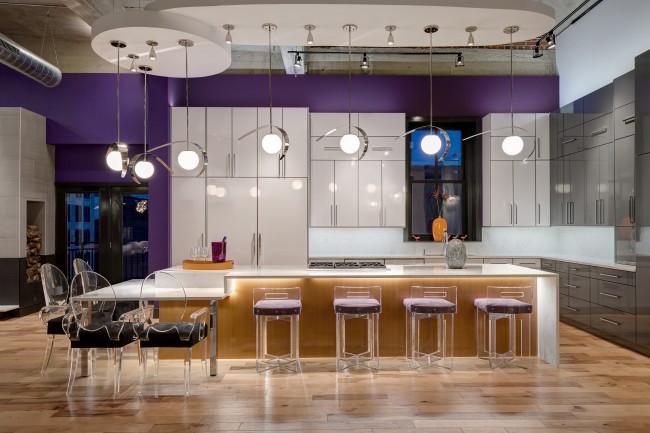 Constraint collides with drama in this loft's contemporary kitchen recently designed by Beck/Allen's own Tom Steck in partnership with St. Louis interior designers Shirley Strom and Katie Marvin of S&K Interiors. Through the work of S&K, what was once an industrial structure is now infused with color, light and texture, expertly matched with sleek gray cabinetry in high-gloss laminate finishes.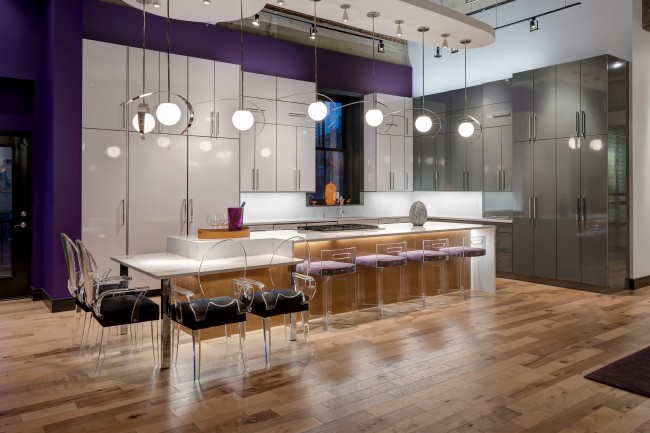 Streamlined cabinetry from Talora by Decor was chosen in subtle shades of gray and white with a high-gloss finish. Minimalist polished chrome hardware from Top Knobs serves as an excellent example of form meeting function; simple, yet beautifully designed pulls in perfect proportion. Cabinet panels conceal multiple appliances including a Thermador refrigerator/freezer and two dishwashers. Sculptural, contemporary fixtures are suspended above the multi-level island—an ideal choice for homeowners with a penchant for entertaining—which is surrounded by a collection of chic Lucite seating.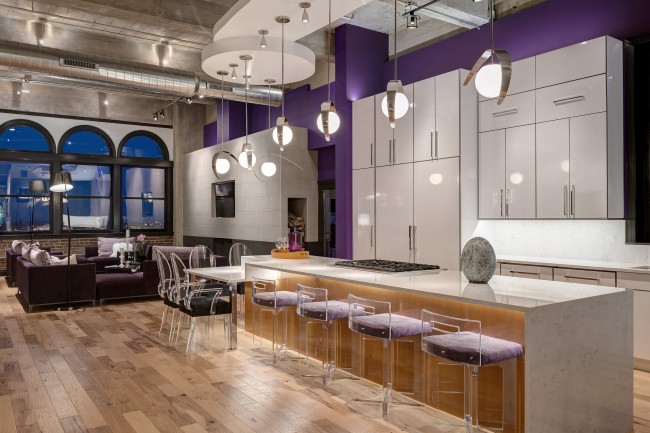 The island, finished in a laminate reminiscent of wood grain, is topped with Cambria (Torquay) extending on one end all the way to the floor. And housed within the island are the kitchen's Thermador cooktop, two ovens, warming drawer and microwave drawer. If you would like more information on the cabinetry featured in this post contact Tom Steck at our IDC showroom at 314.677.6713. Talora by Decor is on display at both Beck/Allen showrooms.
Builder: Tim McGowan, McGowan Brothers Development.
Architect: Amy Scherer, M2 Architecture Studio.
For more details visit our Houzz portfolio.
Photos by Matt Harrer.